We have introduced a molecular model for osmosis and have shown that free molecules exist in liquids and solids. The number of free molecules is directly related to vapor pressure and the temperature of the substance. From the osmosis experiment we find that water moves from the pure waterside (higher vapor pressure) through the membrane into the wine (lower vapor pressure). The effective vapor pressure of water in the wine is lowered because of the solutes in the wine (Raoult's Law). Others have shown that the small pore size in the membrane prevents the larger sugar molecules from penetrating the membrane.
To stop the flow of water into the wine, pressure is applied to the wine (osmotic pressure). This raises the water vapor pressure in the wine and stops the net flow between the wine and the pure water.
We've shown that vapor pressure energy is equal to the kinetic energy of high speed gas molecules. These high-speed molecules are moving faster than three times the root mean square speed of a kinetic theory gas. (We used Maxwell's theory for molecular speed distribution in a gas.) We conclude that osmosis flow is the net movement of these free gas molecules in a liquid and is proportional to vapor pressure difference.
Osmosis is a fundamental process in our bodies also. Our bloodstream is a much more complex fluid than the simple water/wine osmosis experiment. Our bloodstream carries nutrients to our cells and waste products from the cells. Additionally, dead cells and other waste products are carried in the blood stream
Others have shown that each component of a solution exhibits a vapor pressure. Thus, if we extend our molecular model to a multicomponent solution such as blood, we propose that the molecules of each component of the solution are held with weak molecular bonds in the solution. And, high-speed molecules of each component exist in the solution. These free high-speed molecules provide the transport mechanism to move through cell membranes.
A simple two-dimensional model of a fluid with two solutes is shown below which shows weakly bonded and free molecules in a solution.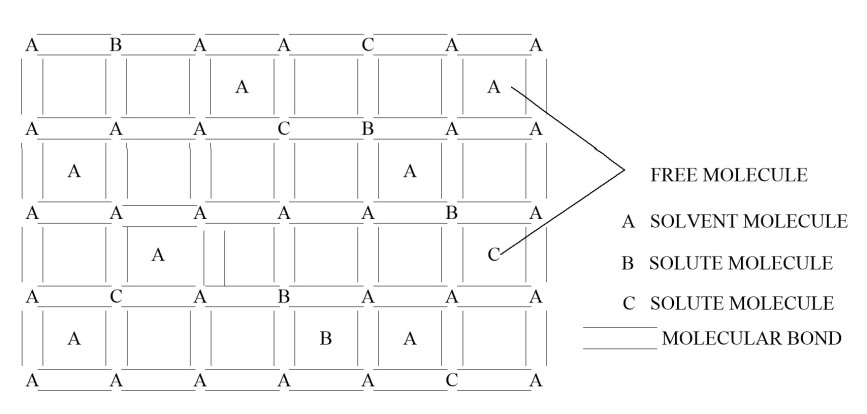 Transport across a membrane is dependent on the number of free molecules (vapor pressure) of each component in the solution and the pore size in the membrane.
We can apply this fundamental model about osmosis flow through membranes to some of the basic organs of our bodies. We do not detract from the in-depth experimental and analytical published works. Instead we add a new view (the molecular model) to understanding some occurrences of fluid flow through a membrane.
© Larry Howlett HTMD Engineering 2018
HTMD Engineering Provides Engineering Solutions for Todays Challenges.
We deliver innovative designs and / or improve existing processes and equipment.
We would like to bid on your projects. 815-766-3471 LDH@HTMDengineering.com